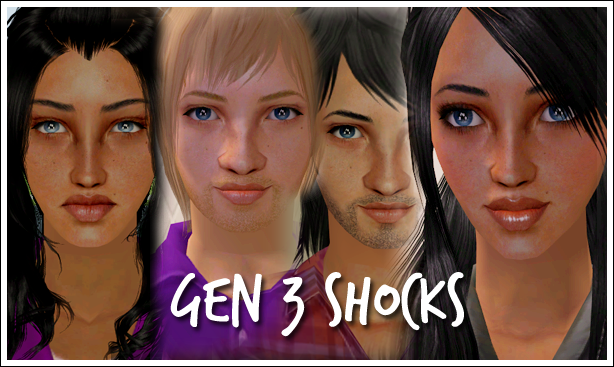 Meet Hal, Mello, Ryo and
Rem
. *coughs*
I'm sorry, but I couldn't wait to share them and right now everything in the Yagami legacy is pretty twisted, which is why I can't post the next update yet. >_< (Once I get everything figured out, I will)
Anyway, these are the kids (well,
adults
) of generation 3 of the Yagami legacy besides the babies, Raye and Kiyomi. (I TOLD YOU IT WAS MESSED UP. >_>)
........
I'm changing the default eyes back to my original set that I found from
senzastelle
, I've decided. I've tried out a bunch of different default eyes and don't really like 'em that much, including this set. =/
ANYWAY, reason I wanted to show you this picture is for two reasons. Okay, a couple reasons.
1) THE CURSE OF THE BIG LIPS. >_> EVERY SINGLE KID HAS HUGE LIPS---(some just show them better than others =P)
2) Reason they have different eyes is a long and complicated story, but basically I wanted SMALLER LIPS so I had Naomi move out and get pregnant with some hot guy (with relatively SMALLER lips). The three on the right were TRIPLETS (triplets and quads hack, ftw =P)
They still all got the big lips. And somehow Mello and Ryo ended up with a HUGE NOSE TO TOP THAT OFF. -.-
.....
Mello did get blonde hair, though, the first and
only
one in his generation. (And all of the kids got different skintones, as you can tell 0.o)
And not including the babies, I'm pretty sure I know who's going to be heir. XDD
Current Mood:
bouncy